Fly Fishing for Big Lake Trout & Arctic Grayling –
We fly fish a little different at Point Lake, often catching trophy lake trout by trolling with a fly rod, and, at the Itchen River traditional fly fishing methods are used where Arctic Grayling eagerly take your flies. This article is written by our long-term guest and friend, Ernie Unger, who is an avid angler who loves to fly fish. His recommendations will set you up for success during your stay with us.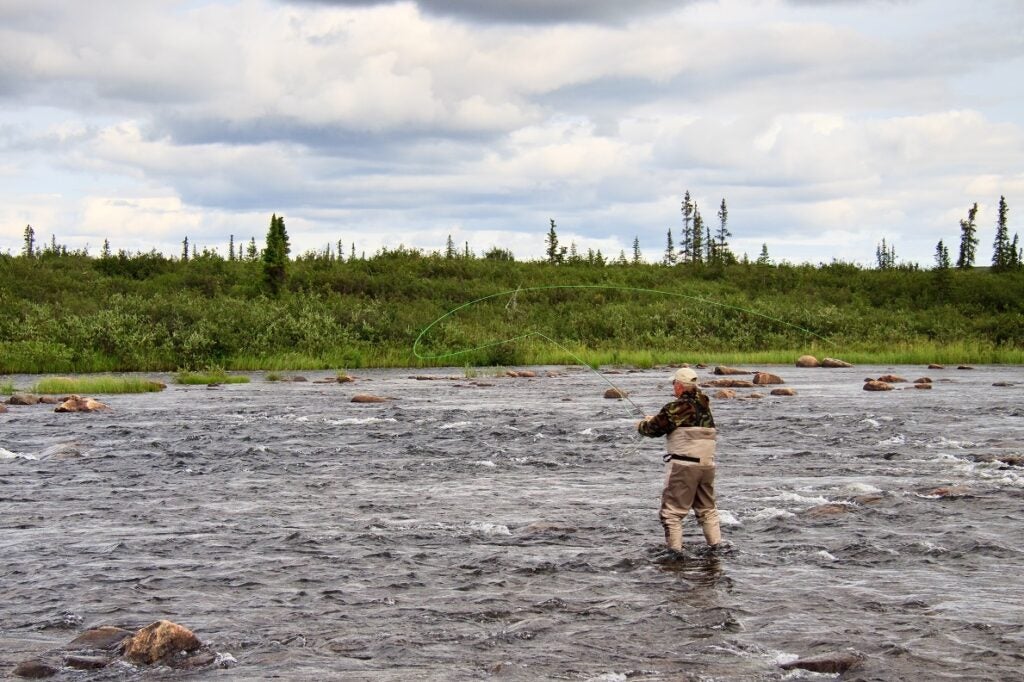 Recommended Fly-Fishing Gear
Lake Trout

Rod: Weight 10 rod. Why? BIG FISH! Twenty pound plus are a daily possibility and thirty pound plus are possible during a week of angling. Since fishing from a boat is most common, stress on rods because of strong stubborn vertical downward runs near the boat require robust butt sections—the salt water models of all the major companies have this feature.

Flies: BIG FLIES! The most effective streamer patterns are bulky and wind resistant. Lakers are not 'selective' ala Spring Creek Browns. Streamers 4"—6" of almost any colour combination will work. It must be noted however that the northern cisco is a staple of the lake trout diet and my favourite streamer pattern imitates the cisco. Whatever streamer is chosen should have a 'stinger' hook within an inch or so of the end of the fly to avoid 'short strikes'.

Lines: Both a sinking and floating line are recommended. Uniform sink of type 3 or type 4 density since the most common method is trolling a sunken line with a trolling motor or by drifting with the wind. Casting from an anchored boat on shoals with sinking lines and streamers is possible because of the dense population of trout in these locations or sections of the lake with a current, I.e. The Narrows between Point Lake & Red Rock Lake. Floating line for the rare but exhilarating time when large lakers sip small caddis flies from a glass calm surface. Ultra fast sinking leaders—5'-15' (Rio or Airflo) or varying lengths of sinking shooting heads (steelhead technology) allow for great diversity of depth. Remember our Arctic Lake Trout remain close to the surface throughout the summer, unlike their counterparts in southern waters.

Leaders: Lake trout are not 'leader shy' This allows for the use of stiff 'old fashioned' mono (Rio, Mason) which facilitates the turnover of large streamers more effectively that ultra strong for diameters dry fly tippet material.
Arctic Grayling
Recommended tackle: Weight 4-6 trout rods. Floating lines are used almost exclusively since grayling in either flowing or still waters will readily take dry flies even when there is no obvious 'hatch'. Even during caddis, midge or mayfly emergencies I have never encountered 'selective feeding'. If one were limited to one fly pattern it should be a size 14 or 12 Parachute Adams.