Arctic Photography Workshop
"What a fantastic place and people. Thank you for an amazing experience. A truly unique place." Pete Rosenfeld
Workshop Overview
Join us for a Canadian photo safari that will immerse you in the awe-inspiring barrenlands while, captivating you under the canopy of the night sky. This workshop takes place during prime aurora season, while vibrant autumn colours blanket the barrens. The macro opportunities are abundant and possible wildlife sightings my include: caribou, grizzly bears, wolves, moose and various bird species. Each day you will be in the field hiking and/or travelling by boat to awe-inspiring vistas and giving you the freedom to chase photographic opportunities as they arrive. Enjoy dark star-filled skies away from city lights as you see the aurora dancing across the night sky and cast reflections on Point Lake.
Suitable for all levels of photographers; whether you are a beginner or experienced photographer you will return home with spectacular images and share a profound experience by spending time on the barrens.
Days at the lodge are dedicated in the field. You will explore the Arctic landscape, hiking and/or travelling by boat to look for wildlife, and search out intricate macro compositions (check out our top 10 tips for macro photography here). Our professional guides, with years of spotting experience, will scout wildlife on your daily arctic photography tour with a focus on safety.
Upon your return from your full day excursions a freshly prepared meal awaits, where local ingredients are often incorporated into the menu.
Nights will be dedicated to aurora photography, milky way photography, light painting or stargazing. The sweeping landscapes, and lakeside location is perfect for capturing reflections, plus the sheer number of stars will enhance your night time photography experiences. Enjoy this uncrowded and beautiful setting to experiment with time-lapse photography, or just sit back and enjoy the show. Peterson's Point Lake Lodge is far removed from crowds and light pollution providing the ideal setting for northern lights and Dark Sky photography.
2023 Dates
2024 Dates
August 28 – September 02
September 02 – 07 (sold out)
August 28 – September 02
September 02 – 07
2023 Price (per person)
2024 Price (per person)
$6,995.00 + 5% GST
$7,275.00 + 5% GST
| | |
| --- | --- |
| Number of Participants | Min. 4 | Max. 12 |
All rates are USD per person and based on double occupancy. Single guests can sign up to share a cabin with another person of the same gender at the regular rate. If a single guest prefers to have a private room, this option is available pending lodge capacity and space, an alternate option is to book a single private room. Canadian Resident? Contact us for our special Canadian rate.
What's Included
▪  Scenic return charter float plane flight to Peterson's Point Lake Lodge
▪  Five nights' accommodation at Peterson's Point Lake Lodge
▪  Five nights of aurora viewing/photography and Dark Sky Photography
▪  Three delicious meals per day
▪  Professional photo leader
Cheryl Stewart
(Living Skies Photography)
▪  Guided Daily Excursions (including fishing option)
▪  Unlimited assistance and input in the field from your Professional Photo workshop leader
▪  Photographic tutorials and hands on instruction
▪  Image reviews, critiques and post processing in Adobe Lightroom
▪  Option to go fishing for
trophy lake trout
▪  Fun, creative and a AMAZING Time!
▪  Lodge Gear including: rubber boots and life jackets
▪  Personalized shuttle to and from the Yellowknife airport, hotel and float base
What's Not Included
Taxes, meals in Yellowknife, fishing license, camera equipment and/or accessories, personal items, specialty beverages, travel insurance (trip cancellation insurance) emergency medical coverage, gratuities. Any expenses incurred due to delays caused by inclement weather, mechanical or other reasons beyond our control.

Fishing licenses can be purchased online or at our lodge tackle and gift shop. Please let us know if you've purchased your license online.
Download our Arctic Photography Flyer
Stay longer with our Trip Extension options
There are two options to extend your trip:
Extend your stay at the lodge: Guests booked September 02 – 07 have the opportunity to stay an additional three nights at the lodge and return to Yellowknife on September 10.
Spend time in Yellowknife: Enjoy the benefits of spending a few days in Yellowknife before flying to Peterson's Point Lake Lodge or after your photography workshop with our trip extension packages. The complete package is designed to give you a taste of our northern city as well as, provide additional photo opportunities (nature hikes to scenic places, boating on Great Slave Lake, aurora tours) plus give you time to get to know fellow travellers. These trip extension options showcase the best of Yellowknife and our surrounding area. Arrangements are delivered under our sister company, My Backyard Tours, please check out our website for available tour options and/or contact us about creating a customized package for you My Backyard Tours.
Yellowknife Tours and Packages include:
Yellowknife Accommodations
Local tours with professional local guides
Airport pick up & drop off
Personalized service
Pre-registration is required for all Trip Extensions. Please contact our office for pricing.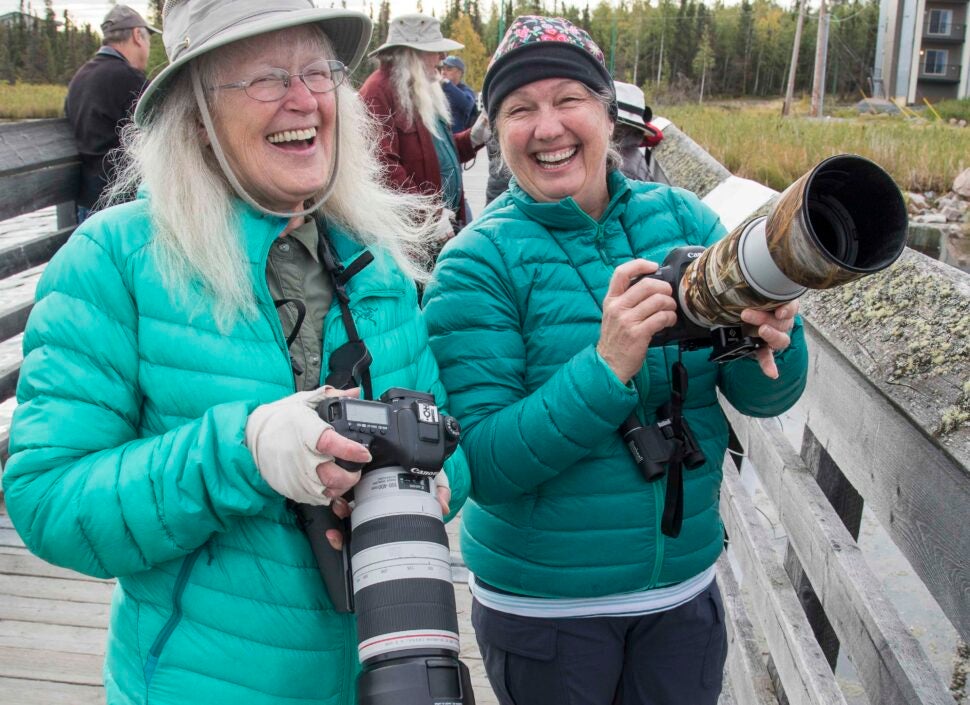 Workshop/Educational Focus
Your photo leader will offer advice to fit the ever-changing environment and weather conditions. Working within the group dynamic as well as one-on-one focus on individual photographic interests. Client photo review sessions are encouraged and are an informative part of the workshop activities. In addition to learning about the technical side of photography, and post-processing, time will also be spent on the creative and artistic side of photography in a casual positive manner. We will review controlling depth of field, reading the Histogram and camera settings. Depending on interest we may also cover HDR, panoramic stitching, light painting, star trails, using Grad and polarizing filters, and much more. Group participation is voluntary and guests who prefer more independent shooting are certainly welcome. If you want more assistance, your photo leader is there to guide and assist you in all things photographic. For more information on workshop topics that will be covered, download the outline here.
Deposits/Terms/Cancellation Policy
Please see our Terms and Conditions Page for information.
Gallery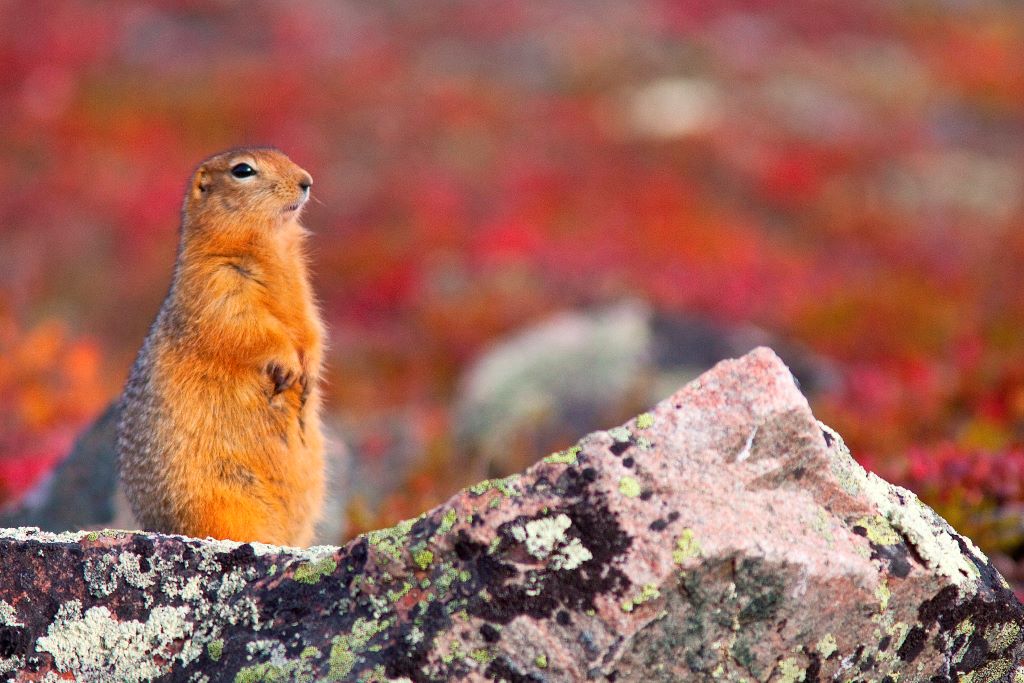 View previous workshops here: 2022, 2021, 2019 and 2018
You also might be interested to check out our Walk the Tundra Explorer Trip and Barren land Nature Tour
Arctic Photography Workshop Itinerary – 6 DAYS/5 NIGHTS
Day 0 – Arrive in Yellowknife
The anticipation begins! Relax with an overnight stay in Yellowknife. All Arctic Photography Workshop participants are encouraged to arrive in Yellowknife early to avoid any issues with weather or luggage and airline delays. The float plane flight to Peterson's Point lake Lodge departs in the morning, and some airlines will not have schedules that allow you to make the connection. Consider signing up for our pre-workshop trip extension packages; they are designed to get you set-up before your workshop plus, provide the best of what our area has to offer – from nature hikes, boating on Great Slave Lake to watching the aurora, these extra days are a great way to share in excitement before flying to the majestic barrens.
DAY 1 – Destination Peterson's Point Lake Lodge
The adventure begins! One of our friendly representatives will pick you (with accompanying luggage) up at your hotel to drive you to the Air Tindi float base. While luggage is weighed and the plane is being loaded enjoy a lakeside complimentary continental breakfast of fresh fruit, freshly baked bannock, preserves & celebratory beverage before your scenic float plane flight to Peterson's Point Lake Lodge. Upon your arrival, our team will provide an introduction and safety briefing over lunch. After a guided tour of the lodge and getting settled into your assigned cabin there is time for a nearby hiking excursion.
Day 2 – 5: Tremendous Photography/Nature Hiking/Daily Excursions
Your days will include guided hiking and boating excursions, where you can walk in deeply entrenched caribou paths, or climb rolling hills and sand eskers – always on the look for wildlife, intricate macro compositions, colourful landscapes and sweeping vistas. Your workshop leader will be alongside to assist with camera settings, composition advise or any help you may need, moving along at your own pace. Evenings may be dedicated to photo reviews, critiques and instruction, depending on group dynamics. weather permitting, nights will be spend fine tuning aurora photography skills, milky way photography , light painting or stargazing. Spectacular morning sunrises may also have you waking early to capture these moments too. Day and night-time activities will be adjusted to conditions, along with the energy and feedback from the group.
Day 6 – Final Day, Departure & Goodbyes
This is the last day of your workshop. There's plenty of time to photograph the sunrise and enjoy a leisurely breakfast before packing for your return flight to Yellowknife. Upon your arrival you will be met by a member of our team to transport you to your hotel or airport.
If you love wildlife, awe-inspiring night skies, breathtaking landscapes & want to enhance your photography skills, click the "Sign Me UP!" button now because this workshop will sell out fast.
Important Trip Notes
Arctic Photography Workshop participants are encouraged to join the excursions and learn a bit of the history and culture of Yellowknife, as well as see some of the local sites and get to know your fellow travellers. We recommended a minimum of a two overnight stay in Yellowknife the evening before the workshop.
This package is 100% weather dependent and adjustment to flights and daily activities may occur as a result of inclement weather and/or other uncontrollable factors.
Natural events such as aurora and wildlife sighting are beyond our control. Photographers are invited to come with this knowledge and the understanding that our lodge and package offerings is located in a vast land and as populations, migratory patterns and weather fluctuates the numbers and frequency of seeing animals can vary, factored in with length of stay. There will be nights that unfortunately we won't see the northern lights and days that wildlife may not be spotted. We'll do our best to set ourselves up for success and invite photographers to have an open mind and adaptability to take advantage of all photo opportunities, be it macro, landscape and other.
We highly recommend all guests ensure they have emergency medical coverage prior to visiting the lodge and have trip/travel insurance.
Please check with our office for availability prior to booking your flight to Yellowknife.