Lake Trout, is a member of the Salmonidae family and lives up to its name of 'tyrant of the lake'.
This fresh water fish lives up to its name and will test your stamina. They are incredibly powerful and fast swimmers. They can strike and take off like a rocket, or hit so hard that you'd swear your lure is stuck on the bottom. Trophy lake trout are predators. They pursue and devour large prey, including other trout, as well as species like grayling, whitefish and ciscoes. They have been seen pursing their own kind while getting reeled in by guests. It's not uncommon for fish that have been caught to have scaring and bite marks, or have tails of small lakers or whitefish sticking out of the giant mouths. Some monster lake trout refuse to release their catch even while their catch is being reeled in by a guest.
The smaller lake trout are fun to catch and are locally known as 'shakers', they can average 6-8lbs and are often kept for shore lunch. These lake trout have orange-red flesh, as they primarily feed on flies, insects and crustaceans.
Fishing Techniques
We mainly troll for lake trout at a depth between 15′ – 25′ all season – there is no need for heavy weight and/or down riggers – a recipe to take the life out of any fighter. Another way to fish for these giants is fly-fishing, either trolling from the boat and/or casting. Jigging is also a good option.
All guests are invited to bring their own fishing equipment however it's not necessary, we have an good supply of trolling and fly-fishing rods and reels for guests to use. Our tackle and gift shop also has an assortment of lures and ciscos for sale at very competitive prices. Below are some suggestions about the type of equipment you'll need.
Trolling Fishing Equipment
Rod & reel – Fast action rod, heavy duty reel (heavy duty spinning or level wind reel)
Line Type: 20-30 pound mono, 30 – 40 lb braid line will work as well.
Leader: 18 inch steel or heavy duty fluorocarbon leaders.
Lures/Bait: Thompson, Eppinger, Lucky Strike or CJ Specials are favorites – so our our customized lodge lures. The trout are big so a minimum of 5 inches in length. Len Thomspon # 2 or # 4. Big Rapalas or minnow type lures. Ciscos with herring rigs.
Flying Fishing Equipment
Rod: Weight 10 rod
Lines: Both a sinking and floating line are recommended. Uniform sink of type 3 or type 4 density.
Leaders: stiff 'old fashioned' mono (Rio, Mason)
Flies: BIG FLIES! Streamers 4" – 8" of almost any colour combination will work.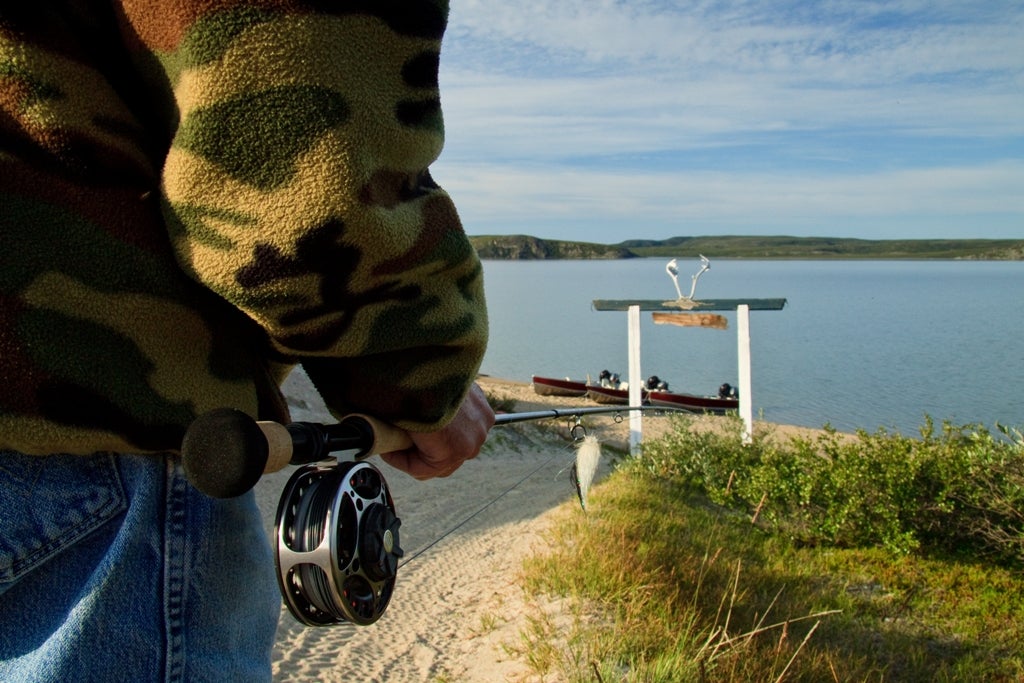 Jigging Fishing Equipment
Rod & reel: Heavy duty medium or fast action 7 foot jigging rod
Line Type: 20-30 pound mono, 30 – 40 lb braid line will work as well.
Leader: 18 inch steel or heavy duty fluorocarbon leaders.
Lures: Big jigs that will get down quickly in the 1 – 3 oz range. Yellow and white are great colors with large tails or skirts.