Limited Edition Art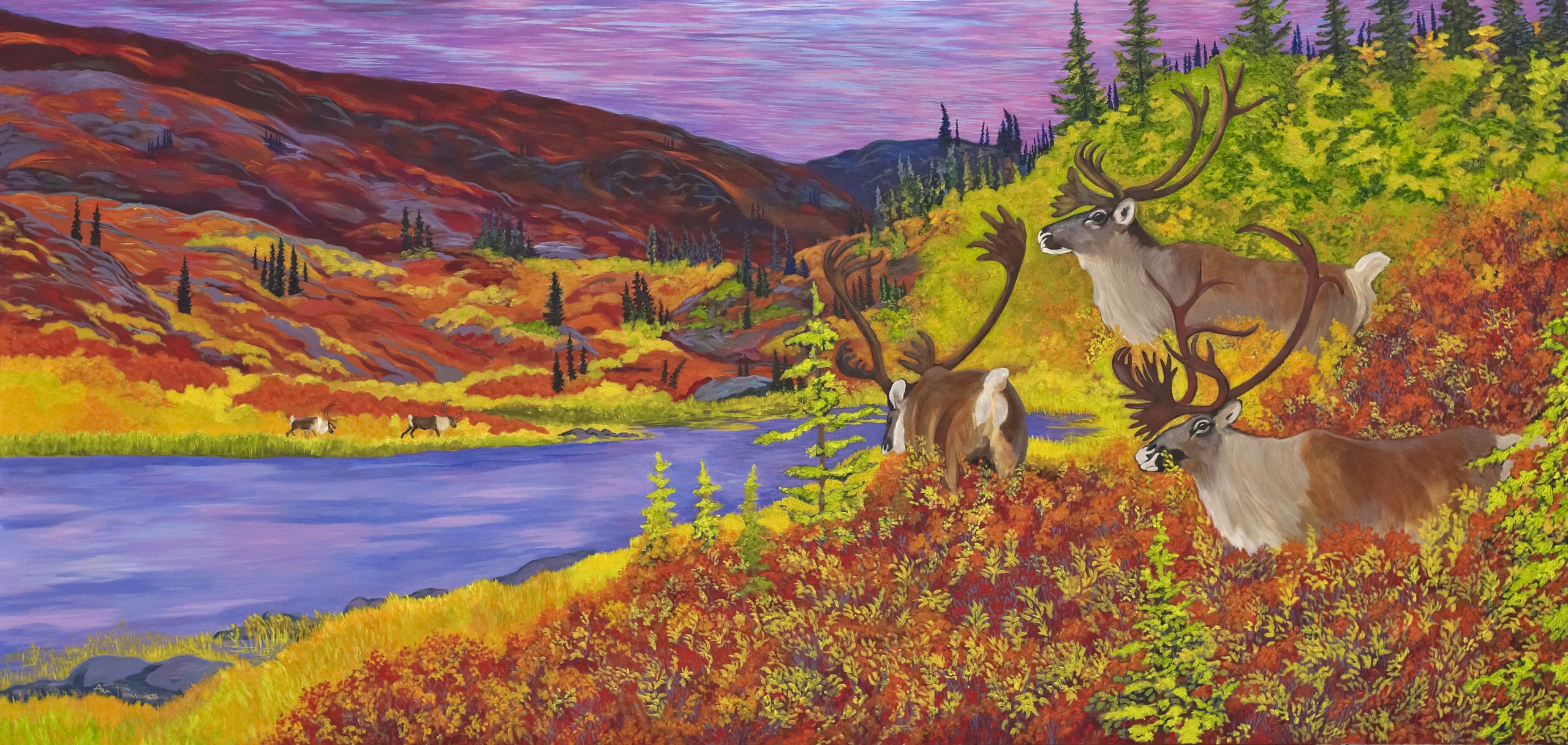 Caribou Bay, painted by Yellowknife artist Ann Timmins is a life-sized illustration of a barrenlands experience at Peterson's Point Lake Lodge.
Fine art giclée prints on canvas are available through Peterson's Point Lake Lodge online platform, in two sizes:
15 x 30 inches (Limited edition of 350)
$375. CAD
18 x 36 inches (Limited edition of 350)
$525. CAD
Payment Options:
You can easily purchase your limited edition print through the PayPal option below or contact our office. e-Transfer and credit card payment methods are also available.
Please Note:
Art prints will be securely shipped in mailing tubes
Shipping and insurance will be added to the above listed price for the amount of $25.00 as well as 5% GST.
About the Artist:
Ann Timmins began her artistic journey while living and working on the family homestead in BC. She spent several years in Fort Rae, Northwest Territories and eventually settled in Yellowknife. Ann draws her inspiration from the northern land, the people and the wildlife. Caribou Bay arises from an experience on the land at Peterson's Point Lake Lodge. Ann's work can be found at Northern Images Gallery in Yellowknife, at the Great Northern Arts Festival, and through her Artico Biota Studio in Yellowknife.
Artist Statement:
There are times in my life when I have realized that I am living completely in the moment. Our journey to Caribou Bay at Peterson's Point Lake Lodge was an entire week of being absorbed minute by minute, on the land. Every day distractions were eliminated; I felt only the peace of walking on the warm carpet of tundra, searching the horizon for wildlife and being captivated by the miniature colour world of each lichen and flora patch. The caribou appeared to be watching us as we landed on the shore, as they were engulfed by the gold, orange and red bushes. As the caribou headed towards the hills, I became a small being along on the land. As I painted Caribou Bay back in my studio, I realized how the image in my memory came together so effortlessly.

Peterson's Point Lake Lodge


P.O. Box 447




Yellowknife

,

NT




X1A 2N4

Canada


Phone/Fax:

867-920-4654


Email:

[email protected]